Play Now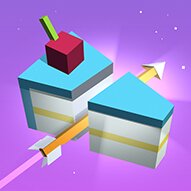 Strike everything in half and relax in Strike Half! Cut, chop, throw arrows and calm down with this puzzle game. Each level earns you points and there's a high chance that you will see many levels. But still, you get to work on your aiming skills. Are you ready to challenge yourself to see how far you can go?
Everyone needs to relax a little bit because of the stress of daily life. This game gives us the chance to chop things off and cut them in half to relax. Like an ASMR session, you can play around with the objects on the table and aim to shoot them with your arrow. From computers to books, foods to shoes, everyday items lay there waiting for you to cut them open in half. After each shot you take, you will see how even your two halves were. Sometimes you may get 50% at each side and that will give a perfect cut. But at some levels, with added obstacles and all, you may have a poor shot. That is when you need to shoot again. You need to get between 30-50% at one side to pass the level. Now, either ai directly or use the bouncing motion of the walls to accurately aim the objects!
If you want to chop things off like in Strike Half, you should try playing Slice A Lot by clicking here.
Developer
Nevar Games developed Strike Half.
Release Date
October 22, 2021
Features
3D colorful graphics
Soothing game experience
Intuitive skills
Multiple levels to complete
Addictive gameplay
Controls
You can use your cursor to aim at the objects.