Play Now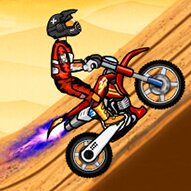 In Stunt Extreme, you challenge not only your opponents but also nature itself. Avoid rocks while dodging other bikers. Do not wait for them to come at you, knock them out and keep the first place! Pull stunts, land safely, and beat your best score!
Move up and down to avoid obstacles and other bikers. Playing safe is a choice but you can also hit your opponents while passing them to eliminate unnecessary competition. You can choose between survival and career modes. Survival mode is an endless race in which you have two lives and try to stay on your bike for as long as possible, while career mode has 60 levels of increasing challenge. Don't forget that you are racing against the time itself, there is no need to waste it on others. Climbing hills is fine until you realize you must keep your balance mid-air and maybe pull a stunt or two in the meanwhile because they fill your nitro bar. Using nitro boosts your speed which means you will have less time to see warnings, obstacles, and other racers. It is best not to fall at all, but you probably will so be careful not to fall while climbing up because you will keep falling downwards. Things get harder and harder with each level but that is not a problem as long as you keep upgrading your bike and character. You can also unlock other characters with different styles and bikes. An online scoreboard is available, if you ever feel discouraged, check them and set new goals for yourself!
If you would like to play more racing games like this one, you can try our racing games here!
Developer
Ramblo Digital Media developed Stunt Extreme.
Release Date
November 24, 2021
Features
Colorful 2D graphics
Different characters to unlock and play with
Career and survival gameplay options
Fun controls
Controls
You can use arrow keys to move and mouse to use nitro. Also, you can tilt your phone or touch your bike on mobile to move.