Play Now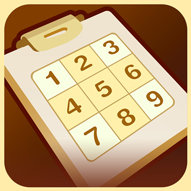 In Sudoku, it's time to go back to the old games! Sudoku is an ageless game; everybody knows it for ages! So, now the time has come to return to classical games. How soon do you think you can solve this puzzle? Are you ready to challenge yourself? Have fun!
Are you fed up with playing classical puzzles all the time? If your answer is yes, this game is right for you! Sudoku is a classical old puzzle game, and it is loved by players of all ages. This challenging game will take you all day to solve. We assure you that you will entertain, but also challenge your brain! If you are ready to play, you can start the game by clicking on the play button. Dont forget to enter your name in the beginning! Your objective in this game is to find the missing numbers. These numbers are to be filled into a 9 by 0 grid of squares which are subdivided into 3 by 3 boxes so that every row, every column, and every box need to contain the numbers 1 through 9. You should be very careful! There shouldnt be recurring numbers on any column, row, and house! You will face 6 different game modes from junior to grandmaster. Start with the most suitable one for you, as you proceed with the game, you can upgrade the game mode. Will you be able to be the master of this game? Let's see if you are ready!
If you need to play more games like this one, take the different challenges in our collection of free and online puzzles games.
Developer
vigoo.com developed Sudoku.
Release Date
December 31, 2020
Features
Challenging game
6 different modes
Various levels to complete
Entertaining and challenging gameplay
Controls
You can use your mouse to play this game.