Play Now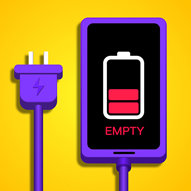 In Charge Now, get ready to tackle one of the most irritating issues of the modern times, running out of batteries! In this game, every electronic device needs to be charged, and you're tasked with this job. Grab the cables and try your best to plug them in by getting rid of various obstacles.
Phone running out of batteries? Yikes! Luckily, you can recharge it! The objective of this game is to pass each level by plugging all the electronic devices. This sounds easy, but be ready to face different challenges in this fun and addictive game. You can play with your mouse, so click on the play button on the main menu to start the game. On every level, you'll see various devices unplugged and out of batteries. Sometimes all you have to do is to click and drag the cable to the plug, but other times, you should clear the objects from the screen, which acts as obstacles. Who left these papers here? You better use the hairdryer to blow them away and reveal the plug beneath! What about that door? Plug it in to open it so you can carry the cables to the other side of the screen. As you pass levels, you'll earn coins. These shiny trinkets can be used to unlock different cable types from the in-game shop. Good luck and have fun!
Looking for more challenging and addictive games? Then head over to our collection of free and online skill games to browse more! Enjoy!
Developer
BPTop developed Charge Now.
Features
Colorful graphics
Intuitive controls
Multiple different levels to complete
Entertaining and addictive gameplay
Different cables to unlock from the in-game store
Controls
You can play this game with your mouse.