Play Now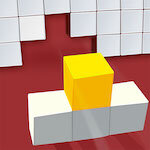 In Fit in the Wall, get ready to step into the ever-moving and unending level as a block, and try your best to pass through walls. You must be fast and careful. Challenge your reflexes and hand-eye coordination. If you're prepared, hit that play button now, and start your long journey! Enjoy!
Fitting in a mold might not be your thing, but this is just a game! Your objective in this addictive title is to pass through the holes in the walls. You can do that by moving your cube to create a shape to fit through these holes. The game has simple controls, as the only thing you need is your mouse. To start playing, click on the play button on the main menu. When you start, your cube will be next to other blocks. As you approach a wall, you should move yourself to create the exact shape of the hole. Click on the right side of the screen to move right, and on the left side of the screen to move left. You earn a point with each wall you pass through. You can track your score from the bottom of the screen, and your high score is located in the top right corner. If you fail to pass through a hole, you'll lose the game. Good luck!
If you enjoy challenges like this, then clicking here will take you to our collection page of free puzzles games. Enjoy playing!
Developer
BeedoGames developed Fit in the Wall.
Release Date
March 26, 2019
Features
Colorful 3D graphics
Intuitive controls
Addicting and challenging gameplay
Different obsteacles to overcome
Controls
Click on the left of right side of the screen to move your cube in that direction.