Play Now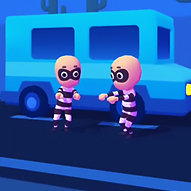 Super Escape Masters are ready to make a run for it. The life of a prisoner is full of hardships and not everyone wants to suffer their whole life. This isn't the first time they have tried to escape. But with you by their side, escaping from this prison is child's play. Can you manage to slip away and make sure nothing goes wrong?
With the new day comes new problems. And you're no exception to that. Just when you thought that everything was going right, you found yourself in the middle of prisoners, trying to help them escape. But at least we're here to guide you through each level. Your objective is to help these runaways by digging tunnels. Be quick, though. The police are looking for them everywhere. When you're digging, you'll also find others who are running like they're trying to run away from their responsibilities. Take them with you and try to reach the truck waiting for you. You'll find keys and gold underneath the prison. Collect all the keys to get 3 stars. But there are other surprises that await you here. If you can call TNT boxes and sharp spikes surprises, that is. You have to make sure at least one of the prisoners manages to reach safety. Otherwise, you'll have to start all over again. If you're ready, make a plan, and let's see how clever you are!
If you want to play more games like this one, check out our collection of online puzzle games to browse more titles. Enjoy!
Release Date
August 13, 2020
Features
Multiple levels to complete
Fun gameplay
Intuitive controls
Nice graphics
Controls
Use your mouse to dig.