Play Now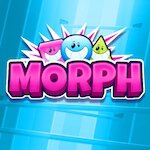 With Morph, get ready for the biggest fall of your life! Compared to how it is normally, falling down for dozens of layers may not be that scary in this fun skill game. It all depends on you! Trust your eye and hand coordination along with being quick in order to fill the percentage and unlock the mystery power-ups! Let's see if you can pass through the floors without being splashed!
These colorful jellies in the form of geometric shapes are so vulnerable. They get splashed even with bouncing only 2 times on the floor. The objective of this fun skill game is to make these jellies fall through the floors by rotating the row with the holes. These colorful characters take the shape of each hole while they are falling down. Rotate the row so correct that the jelly passes through the hole with its own shape. As you proceed in the game, the holes with other shapes and various other obstacles such as spikes and dangerous liquids will come on your way. The speed of the game will be increasing simultaneously as you pass the floors. If you fall two rows or more without hitting the floor, you get combos. Once you fill-up the box percentage to 100, you will get a mysterious boost-up to help you out. Now, let's see if you can break your own highest records each time!
If you want to try another fun skill game with delicious jellies, then be sure to check Jelly Merger.
Features
3D colorful graphics
3 shapes to control
Intuitive controls
Entertaining and addictive gameplay
Controls
You can play this game with your mouse.