Play Now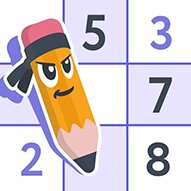 With Sudoku Master, you do not need to wait for tomorrow's newspaper for new sudoku challenges! Now, you can choose the month's daily challenges and fill the calendar leaves, or go with the classical puzzles and decide between the four available difficulty options! Get enough points by solving the difficult puzzles, and unlock the master-level challenges!
Here is the perfect app to fill all your sudoku needs! You can now access any type of sudoku match without dealing with pens and papers! Here, you can start a game, record the time, use notes, and choose difficulty with just one click! Get a randomly generated game each time, complete it successfully to earn some points, and advance through leagues! If you want to remember the game rules or this is your first time, you can open the settings menu and click on "How to play" to get tips. Now, go back and start an easy match. Choose a tile and fill it by using the Numpad or clicking on the numbers on your screen. You have three lives, but you can watch a short ad to revive if you need to. Take moves back, open and close the notes mode, clean tiles, and take hints by clicking on the buttons below. Good luck!
If you like this digital sudoku game, you can check out our other Puzzle Games to find more games like this!
Developer
OpenMyGame developed Sudoku Master.
Release Date
August 15, 2022
Features
Simple and minimalistic theme
Easy to play
Difficulty options
Daily challenges
Available on mobile
Controls
You can use your mouse to play.