Play Now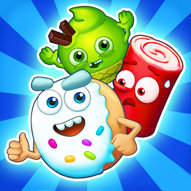 Sugar Heroes need your help! They were about to study the sky, but the town calls for their aid! So, you should help them to save Candy Town! There is something strange about the city, everyone sounds gibberish! Heroes need to complete the mission and save the town. If you start this game, you can save the world! Hurry up!
These candies have a vital mission to complete! Help them to save the town to turn everything normal. In this colorful game, you should match cakes, sugars, jellies, jars, and so many sugary things! And you need to complete the number of goals above the screen. When you complete the tasks, you win the level prize and unlock a hero! In each level, you have different elements to collect that are given at the top of the screen. As you progress in the game, you will find out new features to help you collect the necessary elements. You can gain various boosters that you can use at the beginning of each level, too. Don't forget the obstacles that will prevent you to reach the elements! Last but not least, you can challenge your friends in this game or play solo! Have fun!
Do you trust yourself in solving puzzles? If so, take the different challenges in our collection of free and online puzzle games. Good Luck!
Developer
Clever Apps Pte. Ltd. developed this game.
Release Date
August 17, 2020
Features
3D colorful graphics
Multiple levels to complete
Match-up game
Solo or online choices to play
Controls
You can use your mouse to play the game.