Play Now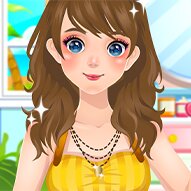 Summer Fashion Makeover gives you a chance to take a peek at one of the most familiar problems of our day: neglecting self-care routines in overwhelming daily stress. You can see its effects on Lilly too. She is a lovely, gorgeous princess, but the lockdowns were not easy on her, and now she needs a lot of help to get back in shape. It looks like you could lend her a hand!
There are four main steps to Lily's glow-up, and the first is to shower her and do some waxing. Clean her body, wash her hair, apply some wax on her armpits and between her eyebrows, and pull! As you can see, there is a bar to her right, and it shows how comfortable she feels. Moving too fast causes pain, so try to be gentle. For the second step, you will do her facial skincare with lotions to help with her acne, pore strips, and apply some foundation. After she gets her clean skin back, you can move on to the third step and do her makeup. Draw her eyeliner, put on lipstick, and choose a blush to go with her complexion. You can also use contact lenses and change her eye color. Lastly, pay a visit to her wardrobe, and choose something fitting the spirit of a day like this!
If you like summer dresses, you can check out Princess Kawaii Swimwear and choose our two princesses the right clothes to wear to the beach!
Developer
iclickgames developed Summer Fashion Makeover.
Release Date
March 1, 2022
Features
Easy to play
Detailed skin care application
Various makeup and clothing options
Available on mobile devices
Controls
You can use your mouse to play this game.