Play Now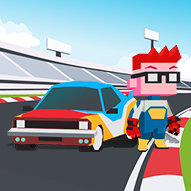 Are you ready for the most exciting race of your life with Super Blocky Race? You will face many different racetracks that you should complete! You need to drive as fast as you can without crashing in this exciting racing game! If you feel ready for the race, wear your belt and start the game!
Hold your breath for the most amazing race! Before beginning the race, you need to pick your car and the racer. In this game, your goal is to complete each racetrack as quickly as you can! There are 6 different characters in the game that you can unlock, but at the beginning, only the first one is available. Each race has a different duration and number of laps. You should try to stay at the peak of the pace to avoid smashing on the way into other cars. You can see your nitro level bar at the top of the screen, it fills in the progress of time. You can also see your car's condition at the top left. Be careful! Your power reduces when you crash into other cars. After completing every track, you win coins, and you can use these to unlock various cars and characters. Good luck!
If you liked Super Blocky Race, to check our collection of free and online racing games click here!
Developer
kiz10 developed Super Blocky Race.
Release Date
June 4, 2020
Features
3D graphics
Intuitive gameplay
Multiple characters and cars to unlock
Different racetracks to complete
Controls
You can use your arrow keys to control the car and shift button to activate the nitro speed boost.