Play Now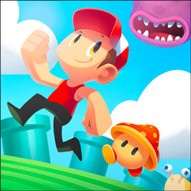 In Super Oscar, join the adventurous character Oscar and his friends to overcome various challenges! With his big arms and positive attitude, there's nothing this brave soul can't accomplish! Help him through different levels as you defeat enemies and tackle obstacles!
Facing dangerous snails and jumping over cliffs are just a few of the ordinary things Oscar does to spend his afternoon, but he still needs your help! Your objective in this fun platformer is to complete each level by reaching the finish. This might sound easy, but each level is filled with dangerous obstacles and enemies! Oscar is ready to move and face these challenges! Use your arrow keys to control him and the SPACEBAR to jump. Soon you'll see enemies appear. Jump on them to defeat them. You can also break blocks by jumping under them. These blocks usually drop gold coins, and sometimes, a power-up! You can also see lots of coins in each level, and be sure to collect them all! You can use the coins to unlock new skills, costumes, power-ups, and even characters from the in-game shop! Happy adventuring!
Fun never ends in Yepi, because we have many entertaining titles in our game collections! Have you checked our collection of free and online adventure games? Enjoy!
Developer
Chorrus Games developed Super Oscar.
Release Date
November 16, 2020
Features
Colorful 2D graphics
Multiple different levels to complete
Intuitive controls
Different types of enemies to defeat
Various characters, skill, powers, and costumes to buy from the in-game shop
Controls
Use the arrow keys to move, press the SPACEBAR to jump.