Play Now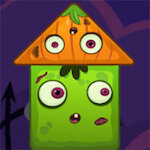 In Super Scary Stacker, get ready to be spooked! In this Halloween themed version of the popular game, you'll be visiting the eery graveyard and awaken the undead shapes from their eternal slumber. Featuring dozens of levels, this game with its shapes, will show you that there's lots of fun to have in the afterlife!
The moonlight dances on the gravestones, and that noise definitely wasn't coming from a mischievous crow! Ignore the shiver traveling down from your spine and try to relax as you meet the shapes! Just like in the other titles in this series, your objective here is to stack different shapes on top of each other to build a stable tower on each level. When you start a level, you'll see a bar at the top of the screen. You can see the shapes you're going to use in the level here. Use your mouse to drag a shape around the screen, and place it carefully on the existing platform. From tough squares to pointy triangles, and even mobile circles, you'll use different shapes. Once you stack every shape on the level on top of each other, check the clock. Your tower should stand still a couple of seconds for you to pass the level. If a shape falls during the stacking or your tower collapses before the timer stops, you will lose the level and must start again! Good luck!
Take the challenge and check our collection of free and online puzzles games for more! Have fun!
Features
40 different levels
Colorful 2D graphics
Halloween theme
Different shapes to use
Controls
Use your mouse to play the game.