Play Now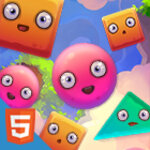 In Super Stack, get ready to step into a colorful world where various blocks in different shapes live together! The balance of this world can be succeeded, but balancing these blocks is whole another deal to be done! You should use a strategy, and most importantly, your creativity to come up with the safest ways to stack these blocks and prevent them from falling. How many levels can you successfully pass by doing so?
What kinds of geometric shapes would want to be built on each other? The ones in the stacking games, of course! In this fun and challenging puzzle game, your objective is to use all the shapes given at the top of the game screen and build those on each other in a way that they would stay in balance. Even if only one shape falls down, it means you fail. And even only one little mistake you make can cause all the shapes to fall down. Once you use up all the blocks, the clock at the left top corner of the screen will be activated. If the blocks stay stable until the time is up, it means you have completed the level successfully. If they fall down, you need to restart that level. Good luck and enjoy playing!
Be sure to check our collection of free and online puzzle games to discover other fun stacking games and many more!
Developer
Kizi developed this game.
Release Date
April 24, 2017
Features
3D colorful graphics
40 challenging levels to pass
Various geometrical shapes
Entertaining and addictive gameplay
Controls
You can use your mouse to play this game.