Play Now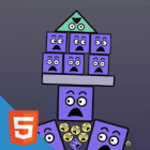 In Super Stacker 2, be ready to dive into the colorful world of geometrical shapes! This fun world is waiting for you to join a more creative and challenging style of stacking the funny blocks adventure. In addition to using strategy, this fun skill game requires a great deal of creativity too! You should find the safest way to prevent the colorful stackers lose their balance and fall down, can you?
Before you start to play this fun skill game, let us give you a warning. This game can drive you crazy with its challenging mini levels that test your patience! But if you accept this challenge, click on the play button and get to work! Your main objective is to use all the shapes given at the top of the game screen and build those on each other in a way that they would stay in balance. Once you use all the blocks, the clock will be activated. If the blocks stay stable for 10 seconds, you pass the level. And, if they fall, you need to restart your current level. There are four stack categories as easy stacks, medium stacks, tricky stacks, and lastly, hard stacks. You should finish every level in one category to pass to the following one. As you progress in the game, the difficulty level is also increasing. But don't worry, each level gives you tips about how you should design your stackers! If you are ready now, let this adventure begin!
Since you completed one of the most difficult challenges in our collection of free and online skill games you can discover others, if you have enough confidence on yourself!
Developer
FreeGames.org developed this game.
Release Date
April 24, 2017
Features
Colorful 2D graphics
40 mini-levels to pass
4 difficulty levels
Entertaining and challenging gameplay
Controls
You can use your mouse to play this game.