Play Now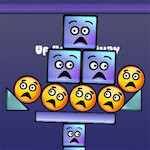 In Super Stacker 3, get ready to build towers as you face the challenges of working with different shapes. Back with its 3rd installment, this game offers many levels for you to complete, just like its predecessors. Can you complete all the levels?
Squares, triangles, and rounds are back! Your objective in this game is to complete each level by building stable and balanced towers with the different shapes you're given. To start the game, click on the play button on the main menu. On the next screen, you can select a level. There are 40 levels that you can play, but only the first level is available in the beginning. You unlock the rest as you play. When you start a level, you can see the shapes you'll be using at the top of the screen. Plan your moves accordingly so you could create a perfect tower that could stand still. To place a shape, simply click on the screen. You pass the level when you use all the shapes and if your tower stands for a few seconds. If a shape falls or your tower breaks apart, you lose the level and have to start again. Have fun and good luck!
If you want to try similar games to this one, then you should visit our collection page of online puzzle games. Enjoy!
Developer
FreeGames.org developed Super Stacker 3.
Release Date
December 24, 2018
Features
40 different levels to complete
Intuitive controls
Entertaining and addictive gameplay
An unlockable bonus mode
Controls
You can use your mouse to play this game.