Play Now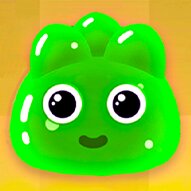 Tap on sweet jellies to transform and blow them up with Sweet Boom-Puzzle Game! Build strategic plans to make all slimes explode with a limited number of moves! Gather different-colored cute jelly ghosts on the table, slowly grow them by triggering chain reactions, and splash the arena with green goo!
Do you know about the life stages of slimes? They are born blue one-eyed creatures, they turn purple and grow arms when tapped once, then they turn orange and grow another eye, and finally, they turn green in adulthood. In the next step, they explode and splash on everything around them, making them grow one age too. Your job is to help them complete their life goals and explode to cover everything in jelly. To do that, you must consider their ages and plan your movements step by step to not leave a single slime person behind. Tapping them repeatedly does the job, but you must use your moves wisely to not run out of them. So, you can try using the slimes that are already green to level up those around them. Complete the puzzles in the normal mode to unlock the challenges of the extra mode and complete them all!
If you like this cute puzzle, you can check out our other Puzzle Games to find more games like this.
Developer
Stickman vs Monster School Team developed Sweet Boom-Puzzle Game.
Release Date
July 21, 2022
Features
Colorful 2D graphics
Adorable characters
Fun for all ages
Improving puzzle-solving skills
Available on mobile devices
Controls
You can use your mouse to play this game.