Play Now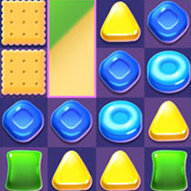 In Sweet World, the world of candies is welcoming you! Get ready for a great journey through our magic sugar land! Sugary adventure is waiting for you! Will you be able to pass all the levels and see the finish? Let's jump into the game and see! Have fun!
Who doesn't love eating candies? Nobody we think! But this time we won't eat them, we will match the candies! Your job is simple actually, just match candies, complete levels, and collect coins! If you are ready for the sweet world, you can start the game by clicking on the play button. You will have over 50 levels to complete. At each level, the game will set you the goal. When you complete these goals, the level ends and you pass the next one. As you play, you will see the goals, remaining moves, and the stars you earned. You will complete the levels by swapping colored pieces of candy on a game board to make a match of three or more of the same color. Matches of four or more candies create unique candies that act as power-ups with larger board-clearing abilities. As you proceed with the game, the number of candies increases and the game will become harder. But don't worry! The harder it gets, the more fun it will be. Are you ready to match candies and collect coins? Have fun!
If you want to play more puzzle games, and try another one similar to Sweet World, then be sure to check Heroes of Match-3, too.
Developer
TapLabGames developed Sweet World.
Release Date
January 7, 2021
Features
2D colorful graphics
Entertaining gameplay
Over 50 levels
Goals to complete in each level
Controls
You can use your mouse to play this game.