Play Now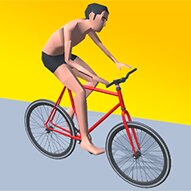 Swipe Runner might have running in its name, but there will be no literal running except for some strategical reflex engines! The funny-looking naked guy you see on the screen is the muscles while you take the part of the brain. Let him sweat for you; you just decide on the right vehicles at the right time, and leave your opponent behind!
The game itself is really simple; you have three random options below: a bike, high walking sticks, and a bicycle. Swipe the object right to use or left to delete it. The trick is to choose the right one according to the shape of the track. Sticks work well with hills and slopes that are impossible to climb with a car or bike. They work on every land shape. The only problem is that they are too slow, and your opponent knows that as they also have access to these three options. The bike is more mobile than the car; slight humps are no problem with it. Cars, on the other hand, are only good for speeding on a straight track. So you will need to use sticks only while climbing, choose between bikes and cars while speeding, and be quick while doing so. Good luck!
If you like this fun and absurd race, you can check out Stair Run and shape the track instead!
Developer
Nevar Games developed Swipe Runner.
Release Date
March 11, 2022
Features
Colorful 3D graphics
Funny character design
Easy controls
Available on mobile devices
Controls
You can use your mouse to swipe.