Play Now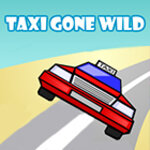 In Taxi Gone Wild, you're in a rush and can't be bothered with the other slow cars in the traffic. Start the engines, fasten your seatbelt, and get ready to drive as fast as you can on a very long road. How far do you think you can drive before your time runs out?
Taxis are always in a hurry to take their passengers to their destination in time. The active traffic might become an obstacle during the rush hour, but with you behind the steering wheel, nothing can stop you. The objective of this game is to drive as far as you can to reach the highest level before you run out of time. The road you're on has many other vehicles driving on it. When you start the game, speed up with the up arrow key and overtake other cars by changing lines with the left and the right arrow keys. Can't pass the car in front of you and there are no gaps to drive through the traffic? Driving one of the best cabs in the city, you have a nice trick up in your sleeve. Press the SPACE BAR to make your car jump over the other vehicles. Your time, score, and level are located in the top left corner of the screen. As you pass levels, you'll earn more seconds, so drive fast! Good luck!
Don't stop now! In our other exciting game Drag Racing Rivals, only the fastest driver can win. Enjoy!
Features
A fast paced gameplay
Intuitive controls
Colorful graphics
Simple objective
Controls
Use the up and down arrow keys to speed up and stop, and the left and the right arrow keys to change lines. Use the SPACE BAR to jump.