Play Now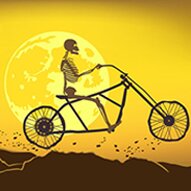 Hop on your motorbike and speed up in Halloween Wheelie Bike! The spookiest of the seasons is just more fun when you add a little bit of adrenaline to it. The adrenaline you're looking for is here with the wheelie bike. Can you handle the extremity and go far, far away?
Using a motorbike might be second nature to you, but when you want to show off your stunt moves to your friends, you need to go a little on the edge. Your friends won't be wowed easily, so you should try something new. That is when the wheelie bike comes into play. Drive your motorbike on one wheel and show everyone the crazy driver in you. You simply need to go on as far as you can on one wheel. When you raise the front of your bike, you will need to find a good balance not to fall, though. You can achieve this by clicking on the left click on your mouse. Just try to find the perfect balance so you don't roll back or fall to the ground. If you can manage this, you are good to go. Now, let's see how far you can go on one wheel!
If you want to play a similar game to this one, you may check out Wheelie Biker by clicking here.
Developer
Game Ashlar developed Halloween Wheelie Bike.
Release Date
October 21, 2021
Features
• 2D colorful graphics
• Intuitive skills
• Halloween theme
• Calming and addictive gameplay
Controls
You can use the left click to raise the front of the motorbike and ride it.