Play Now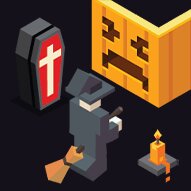 In zBall 4 Halloween, you better get used to the ghastly sounds and the creepy vibes! Cackle away your troubles and jump onto your magic broom to collect points in this Halloween-themed adventure! How far do you think you can travel without falling off the ledge?
Carve your pumpkins, light your candles, and get ready to be spooked because Halloween has arrived! This season is all about fun, tricks, and treats! Your objective in this addictive and challenging game is to travel as far as you can to get a high score. You control a with who likes to fly on their magic broom, so get ready to cast a spell! When you start the game, your character moves forward on their own. All you have to do is to keep them on the road by clicking or tapping on the screen to make them turn. Be careful! If you're not fast enough, you'll fall off the ledge and it'll be game over for you! But don't worry, you can start over. Have fun!
Do you trust your hand-eye coordination and fast reflexes? Then accept the challenge and visit our page of other skill games to test yourself! Enjoy!
Developer
Wanted 5 Games developed zBall 4 Halloween.
Release Date
October 12, 2021
Features
Colorful 2D graphics
Challenging level design
Intuitive controls
Entertaining gameplay
Different items to buy from the in-game store
Controls
Use your mouse to play on the desktop, and your finger to play on mobile devices.