Play Now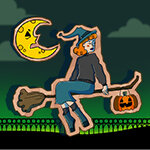 In Halloween Witch Fly, the sky darkens as the sun sets and the scary creatures start to appear. As the local witch, your character decided to fly through the night on her broom, but she wasn't expecting the sky to be this crowded. Join her on this journey and help her fly as far as she can without being stopped by various obstacles on the way.
Ghosts, bats, flying pumpkins, and many more strange characters are parading in the sky with the coming of the spooky season. Your objective in this game is to make your witch fly as far as you can by avoiding the obstacles on the way. You can play this game with your mouse. To start, click on the screen. To make your witch fly up, click and hold your mouse on the screen. When you stop clicking the left mouse button, she'll fly down. You earn points as you fly forward, and your score can be tracked from the top left corner of the screen. Hitting any of the obstacles on your way will cause you to lose the game, so be careful.
Put your skills such as your eye-hand coordination or attention to detail through the games listed on our category page of free and online skill games! Have fun!
Developer
Agame developed Halloween Witch Fly.
Release Date
October 11, 2019
Features
Colorful 2D graphics
A cute witchy main character
Intuitive controls
Entertaining and addictive gameplay
An endless level to play
Controls
You can use your mouse to play this game.