Play Now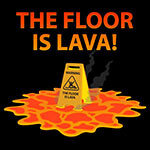 In The Floor Is Lava, warm up your legs and get ready for a non-stop jumping adventure! Is it getting hot in here or what? Of course, that is because there is a melting lava on the floor! You have to fight against gravity to stay alive in this multiplayer online game. How long can you survive without falling into the orange molten rocks?
There no such thing as being tired anymore! You need to gather all your power and keep jumping to stay alive. The gravity and your opponents can cause you trouble, tho. In this fun IO game, your objective is to jump to not to fall down on the lava floor and throw off the attacks of your enemies to be the winner. When you enter the game, you should wait for other players to attend too. You can invite your friends to the game and challenge each other or wait for other players to join. Just above your character, you can see the "you" writing. Click on your character and drag your mouse to determine the direction. The others will try to hit you so that you bounce, lose balance, and fall down! Apply the same trick to win the game but be careful! Good luck and have fun playing!
If you want to challenge more players and show them what you can do to win, you should check CellCraft.io.
Developer
Mathew Matakovic developed this game.
Release Date
June, 2017
Features
2D colorful graphics
Gameplays including 5 player
Simple control
Entertaining and addictive
Controls
You can use your mouse to play this game.