Play Now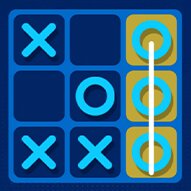 Rediscover one of the oldest games of human history with Tic Tac Toe Master! You can choose 'one-player' and play against the computer or 'two-player' and invite someone over to compete with you in this challenge! Get ready to dive into the endless fight between "x" and "o"!
There are two main modes, both including one and two-player options. The classical mode requires you to place three of your initials horizontally, vertically, or diagonally without any interruptions from the enemy. The table is also 3x3, so games are short and harder to win for both sides. You have a three-minute time limit, and it does not mean much in the one-player mode as the computer attacks are quick. On the other hand, it gets tougher in the two-player mode, as people tend to think longer while playing against each other. If you switch to the custom mode, you can change the size of the game board and the number of strikes you need to win. You can set an 8x8 table and require 5 strikes to win. However, the time limit does not change with the size of the game, so keeping an eye on the countdown would be a smart move.
If you like puzzle games, you can check our Puzzle Games category out by clicking here.
Developer
Fun Best Games developed Tic Tac Toe Master.
Release Date
March 21, 2022
Features
Two main modes
1P and 2P options
Adjustable game settings
Available on mobile devices
Controls
You can use your mouse to play this game.