Play Now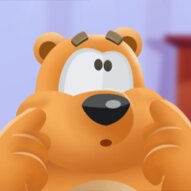 Help the cartoon bear escape vicious traps with Toon Blast! Break the cubes blocking the halls of this cursed temple and keep solving mysteries! Follow the bear's thoughts, click on the blocks quickly, and keep up with the quick pace of the metal saws and hungry fire waiting to swallow you!
This big bear in pants is after the secrets of an ancient temple, and this temple is well-protected. He gets caught up in these traps repeatedly. He obviously needs some help from outside to break the cubes that block his way, and you are the perfect candidate. You can read his mind to get tips on what blocks are breakable at that second. You have a few seconds before the bear changes his mind, so keep your hands quick and your reflexes sharp. Help our cute hero look for what he needs by keeping him away from falling boulders, gears turning at high speed, saws chasing after him, fire traps, and rising water! Break the grey blocks with stars to score some extra points and complete levels with three stars! Help your new friend through twenty challenging puzzles and get him out of the temple in one piece!
If you like this thrilling puzzle, you can check out our other Puzzle Games and find more games like this!
Developer
kiz10.com developed Toon Blast.
Release Date
September 15, 2022
Features
Cute character design
Creative and challenging traps
Thrilling levels
Available on mobile devices
Controls
You can use your mouse to play this game.