Play Now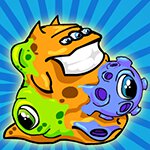 In Transmorpher, break out from a science facility as a creature with shape-shifting abilities, and try your best to complete each level. Your character can absorb the shape and abilities of other creatures, so no amount of obstacles can stand between you and your freedom. Can you complete dozens of fun and challenging levels with ease?
Science is amazing, and who could've thought that they can create a creature like the main character of this game? Your objective is simple and fun! You try to complete each level by reaching the exit. But this science facility is not easy to escape from. Each level has different obstacles that you need to overcome. While your original green shape is nice, you'll need the abilities of other creatures to escape. You can use your mouse or the arrow keys to move around. To absorb others, simply stand on top of them. To climb the walls, you need to turn into a blue monster or to push the heavy crates, you need to turn into an orange one. There are 48 challenging levels, and you unlock them one by one. In the bottom left corner of the screen, you can see the shapes you've collected. You can use the number keys to change into them. Keep in mind, to absorb another creature, you should be in your original green form. Good luck and have fun!
If you enjoy these types of games, then you better take a look at our collection of online and free puzzle games. Enjoy!
Developer
Agame developed Transmorpher.
Release Date
July 13, 18
Features
48 different levels to complete
Colorful 2D graphics
Intuitive controls
Entertaining gameplay
Different shapes to take
Controls
You can use your mouse or the arrow keys to control the creature.