Play Now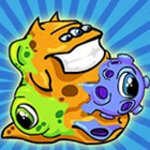 In Transmorpher 3, get ready to control not just one, but 3 characters! An unfortunate accident happened, and you've crash landed onto a strange planet. Now, there's no choice but to escape the ancient pyramid by reaching the portal at the end of each level. Are you ready to explore this great pyramid?
In the third installment of the game series, you have to solve the mysteries of this ancient temple and try to reach the exit. There are 30 levels, and in each level, your objective is to reach the escape point safe and sound! Piece of cake, right? Each level has difficulties of its own, so you have to be careful. But being careful isn't enough. You need 2 other characters to break out of here. To absorb them, stand on top of them. Each character has a different talent, and you need to use all of them if you want to win the game. To move around, you can use the arrow keys or your mouse. Try to avoid green lava, laser lights and evil robots and solve the puzzles to get past the obstacles. Do you think your problem-solving skills will be enough to beat this game?
It's nice to see that you're enjoying the game and it looks like you got through all the levels. Play Fireboy and Watergirl: The Light Temple now and try to solve the puzzles of this game!
Developer
Developed by OrangeGames.
Release Date
September, 2018.
Features
3 characters to play with
30 levels to complete
Intuitive controls
Fun gameplay
Controls
Use your mouse or the arrow keys to move around.