TrollFace Quest: Video Memes & TV Shows Part 1
Play Now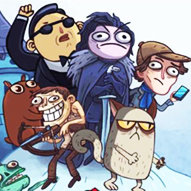 In TrollFace Quest: Video Memes & TV Shows Part 1 the infamous trickster is back in business. But this time he is not alone. He has brought with him famous characters from TV shows. Do you think you can trick the trickster in this game?
Meeting your favorite characters sounds exciting, doesn't it? But certainly not in this way! This mischievous man has come to play his greatest trick on you. But you have had enough and it's time to stop him! Your objective is to complete all the levels and solve the puzzles in each level. You can play the game with your mouse. There are 309 levels in this game and you'll see Khaleesi and the Iron Throne with a twist, Miley Cyrus on the wrecking ball, Negan and Lucille, and many more... You have to avoid getting trolled by clicking the correct objects and characters. Instead, you can troll the trickster and wipe the grin off his face. Now, this does put a smile on my face. Mwa ha ha ha! But even if you can't solve the puzzles, it's okay. You can always use hints to help you move on to the next level. Play now and ruin his plans!
Oh no! Don't tell me he returns in another game. Pfff. Okay then! Play TrollFace Quest: Video Memes & TV Shows Part 2 by clicking here and face this joker once more!
Developer
Release Date
June 11, 2020
Features
Colorful 2D graphics
Famous characters from TV shows
Different puzzles to solve
Fun gameplay
39 levels to complete
Controls
You can use your mouse to play.