Play Now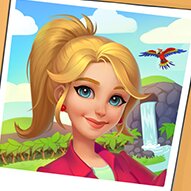 Remember where you belonged in Tropical Merge! You are back in your lands and an important surprise is waiting for you. Your grandfather has left you a huge farm. Now, you must take care of it. Are you ready to get in touch with your roots now?
You will feel very excited the minute you land on the island you grew up on. You will remember your lovely days with your grandfather and will directly go to his farm. Now, it's yours. The better thing is that you will have many people you know from your childhood helping you and you will get to learn from many people. Now, merge, grow and collect the harvest you grow with your own hands. You can sell them to earn money and even upgrade your farm. It's all in your hands to make the farm your grandfather has left for you the best farm ever! Can you work hard to achieve this and complete your tasks on a daily basis?
If you enjoyed creating and managing your own farm in Tropical Merge, you should also check out Mergest Kingdom.
Developer
Clever Apps Pte. Ltd developed Tropical Merge.
Release Date
November 22, 2021
Features
• 3D colorful graphics
• Building your own farm
• Exciting narratives to read
• Daily tasks
Controls
You can use the mouse of your computer to choose options.