Play Now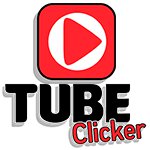 With Tube Clicker, are you ready to be real famous on social media platforms and make money out of it? Video sharing platforms are becoming more popular day by day, and you are only one click away to be a part of this trend! Share your video, improve your Tube account, and get numerous subscribers on your road to fame. Let's see how a good Tuber you would make now!
We know you have the potential of creating unique content for your videos, and it is the first step to success! But this fun skill game is all about after that process! You are about to get many viewers and subscribers who are in love with your uploads. With that much success, you can make deals with other social media platforms by downloading their apps and increase your rates like crazy! Doing so, you can also purchase the necessary equipment to upload more new videos and increase your views, as no one could ever do so far. Follow your earnings from the left top of the screen and use them to make upgrades and app downloads from the right side of the game screen. At the left bottom, you can see your name, followers, and view rates of the videos. Doing your own business was never this much fun before, right?
If you want to try another clicker game as fun as this one, then be sure to check Habbo Clicker.
Developer
Cangrejo Ideas developed this game.
Features
2D colorful graphics
Uploading new videos per 500 subscribers
9 different apps to download
Simple controls
Controls
You can use your mouse to play this game.