Play Now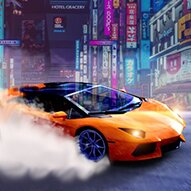 Enjoy the ride in Two Lambo Rivals Drift! Are you a crazy driver who can't seem to settle down to a normal car ride? If the answer is yes, then you will have the time of your life in this empty city where the streets belong to you. Let's start the ride and drift all the way!
With great 3D graphics of the lively and vivid buildings that give a spectacular night scene, you will find yourself inside this world. You will have the chance to drive a Lambo in this game. Fast, chic, and shiny cars are at your service. Choose the one you like and collect money to unlock new ones. To start the exciting game, choose if you'd like the 1-player or 2-player mode. In either mode, you will have two options to play. Either choose the classic drift and drift to get the most points. You can also choose to race against time in the single-player mode or one other in the 2-player mode. Whichever game mode you choose, feel the adrenaline and drift around the empty streets in the coolest way possible!
If you enjoyed this fun driving game, you may also take a look at RX7 Drift 3D to challenge yourself more!
Developer
Fuego! Games developed Two Lambo Rivals Drift.
Release Date
January 25, 2022
Features
• 3D colorful graphics
• New cars to unlock
• Need for skillful driving controls
• 2 main modes to challenge yourself
• 2 player mode available
Controls
You can use the WASD and the arrow keys to drive and drift the car.