Play Now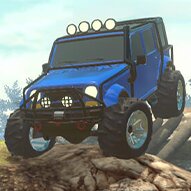 Test your driving skills offroad with Ultimate Offroad Cars 2! Leave the city asphalt for the muddy mountain roads, challenge yourself with nature, and enjoy this vacation in the woods! Improve your reflexes and motor skills while completing addictive levels, explore unique views and specially designed maps, and unlock all the vehicles waiting at the garage for you!
Driving in the city is fun, but what is more freeing than exploring nature with wheels? Tune up the challenge and master the control of your vehicle under any condition with this game! Keep all the responsibilities while multiplying the difficulty! You can start learning about your limits by getting into your car and turning the engine on right now. Choose the first level and create your path in the wilderness. There is no need to rush; in fact, you must be slow and steady on the changing land shapes of these maps. Use your mouse to see from all angles and find the safest road toward the finish line. Do not let the health of your car drop to zero or your vehicle get stuck. Complete levels to unlock new vehicles and try them all on different maps to learn more about them! Have fun!
If you like this challenging driving game, you can check out Ultimate OffRoad Cars and complete levels in the first game of this series!
Developer
Vitalitygames.com developed Ultimate OffRoad Cars 2.
Release Date
August 31, 2022
Features
Colorful 3D graphics
Realistic driving experience and challenges
Unlockable vehicles
9 thrilling levels
Open maps with natural scenes
Controls
Use "W, A, S, D" to move, the spacebar for brakes, and the mouse for camera angles.