Play Now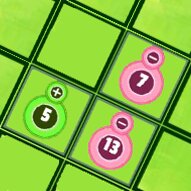 Unsigned Int invites you to test your mathematical skills with ultimate entertainment! You can both train your brain and have lots of fun at the same time. All you need is your mouse and some practice. As you keep playing, it will get easier to solve these puzzles. Let's not forget about all the cheers you can collect either. If you are ready to jump into this adventure now, let the game begin!
Are you a math lover as much as we are? If so, this fun puzzle game is so for you! Are you ready to test your skills now? The very first step is to click on the play button and start the game then. In this fun math puzzle game, your objective is to achieve a number between 0 and 20. This game allows you to play in 2 modes. The first one is the "Easy" mode, in which you will use only addition and subtraction. The second mode is the "Hard" mode, where multiplication and division are added. There are 40 levels in total, 20 for easy and 20 for hard modes. Check which kind of operation the number gives you, click on that number, and select another to merge them. Sounds easy right? It will get even easier with practice! Good luck and have fun playing!
If you want to try another game where you can test your math skills even further, then be sure to check 2048 Balls by clicking here.
Developer
Lof Games developed Unsigned Int.
Release Date
June 23, 2021
Features
2D colorful graphics
40 challenging levels to complete
2 game modes to enjoy
Fun and addictive gameplay
Controls
You can use your mouse or finger to play this game.