Play Now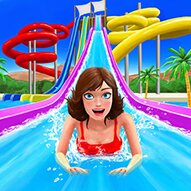 Uphill Rush 8 is here, so get ready to be soaked with exhilaration! Wear your swimsuit, and get ready to embrace the challenge the levels of this fan-favorite game offers. Do you have what it takes to complete all the tracks as fast as you can?
Swimming in peace is not an option in this waterpark, so you must release the daredevil within! If you've played the previous titles of this game, you know the drill! The objective of this game is to complete all the levels by reaching the finish line as fast as you can. The game has 20 different levels, and you unlock them one by one as you complete them. Use the arrow keys to move your character and perform stunts. You earn coins at the end of each level depending on how many coins you've collected, how many stunts you've performed, and your rank. Your rank depends on how fast you finish the level. With the coins, you can unlock and use different character and floating device models. There are dozens of options, so you better earn fast! Have fun playing!
Looking for more? Don't worry! Click here to check our collection of other free and online adventure games! Enjoy!
Developer
Agame developed Uphill Rush 8.
Release Date
October 27, 2021
Features
20 different levels to complete
32 different floating devices to unlock and play
67 different characters to unlock and play
Addictive and entertaining gameplay
Intuitive controls
4 different boosters to use
Controls
Use the arrow keys to move your character, and the SPACEBAR to boost your speed.