Play Now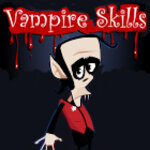 In Vampire Skills, the Vlad Tepes High School Training Centre opens its doors to the creatures of the night, and you're one of the new students who is eager to master his vampiric nature. Through multiple tests, you can learn and master the supernatural powers you possess. Do you think you're talented enough to graduate?
Mortals are your plaything, and many necks are waiting to be bitten! Your objective in this game is to complete each level by solving puzzles with your skills before you run out of time. You can play the game with your mouse, so click on the play button to start. At the bottom of the screen, you can see the different skills you can use. Not every skill is useful on each level, so you should try to find the correct ones. Click on a skill, and if its icon appears on the screen, click that to use it. Use the bat form to travel through the narrow spaces, and your hypnotizing gaze to control mortals. Use invisibility skill to pass through guards unnoticed, and use your super strength to get rid of heavy obstacles. Keep an eye on the hourglass in the bottom left corner of the screen. You should complete the level before it runs out, so try your best to be quick! Walk with the shadows, and avoid the sun, young vampire!
Whether you're a vampire or not, there are many challenges to face in our collection of online and free puzzle games. Have fun!
Features
Colorful 2D graphics
11 different skills to use
Entertaining gameplay
Intuitive controls
Multiple fun puzzle-filled levels to complete
Controls
You can use your mouse to play this game.