Play Now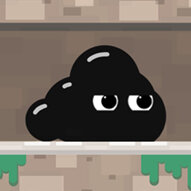 In Venom's Adventures, so many traps, so little time! This alien may look little, but he is actually a symbiote who can give his host immense power. That's why he was kidnapped from his planet by humans. Can you help him get out of this prison?
Just a small symbiote with big dreams. Since he was abandoned by his own kin, he needs to find his own way out of this prison. Your objective is simple. Navigate Venom through the levels and help him get out of this prison alive. It's the only way for him to find a host. You can play this game with the arrow keys or WASD keys. There are 3 game modes you can check out. In the first mode, you need to complete all the levels. In each level, you need to reach the shiny tube to finish that level. Beware of spikes and all the other obstacles since they can hurt you. When you jump, you lose small parts of yourself. Try not to jump too much if you don't want to lose that ability and reach the end as quickly as possible. Find the hidden diamonds in each level to play the hardcore mode where each time you die, you need a diamond to revive. In the last mode which is the survival mode, run as quickly as you can to avoid the blades and fire. Have fun playing!
Venom's adventures may end here, but other heroes await you in our collection of online adventure games. Enjoy!
Developer
bestgames.com developed Venom's Adventures.
Release Date
April 16, 2021
Features
3 different game modes
Unlockable character skins
Intuitive controls
Fun and challenging gameplay
Controls
You can use the WASD or arrow keys to play. Press the space bar to jump.