Play Now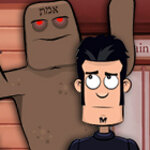 In Vortex Point 4, join the detective Kevin, Caroline, and Craig to solve a mysterious case. Two artists have been attacked, but there are no fingerprints left! Expert in solving extraordinary cases, this trio of detectives are here to shed light on this situation.
The city is a big place, and not everyone abides the law. From petty crimes to organized things, much criminal activity takes place in this city. It's up to the brave and intelligent detectives to find the truth! Meet this successful team of detectives! Your objective in this game is to collect evidence and find the culprit! You control Kevin, a detective who likes to be at the field, collecting evidence and questioning suspects. Your team members are here to help you. Caroline can inspect any evidence you bring to her, and Craig can give you some ideas about what to do next. You can use your mouse to play the game. If your cursor turns to a hand icon when you move it over an object, it means you can interact with it. Use doors to change rooms, collect items, and talk with other characters. You'll never know what you'll uncover with a little socializing. Be sure to look around every corner and under every couch! You'll never know where to find a clue to point you to your next step! Enjoy!
If you're looking for games like this, then be sure to check our collection of free and online adventure games. Click here to start browsing now!
Developer
Carmel Games developed Vortex Point 4.
Features
Colorful 2D graphics
Simple controls
Entertaining and addictive gameplay
Interesting story
Cool characters
Controls
You can use your mouse to play this game.