Play Now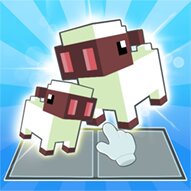 Take a break from all your boring and monotonous work, find glamorous and colorful objects, and match them with Voxel Merge 3D! Dive into a pool of cute fluffy animals, firetrucks, and spikeless cacti to open your eyes to a new type of attention puzzle and improve your skills while having fun!
Use your magically quick pickaxe to break dirt blocks, watch them turn into toys and random objects, and open yourself some space to play! Do you remember all the times you had to clean up a mountain of clothes piled on each other? Finally, you can use all the skills you built doing these chores! You just have to match toys like you match socks before putting them into the drawer! There are two empty spots at the bottom; these spots are where you are supposed to place the toys. Take a quick look at the pile of pixels and try to recognize the objects by their vivid colors. Make combos by matching pairs without a break and earn coins. Stop by the shop and use your money to buy ney pickaxes to break harder blocks and hints, time freezers, lives, and shufflers to use in the game! Good luck!
If you like this fun matching challenge that improves your puzzle skills, you can check out our Puzzle Games and find more games like this!
Developer
Brosco Games developed Voxel Merge 3D.
Release Date
June 17, 2022
Features
Family-friendly
Easy to play
Improving attention skills
Unlockable hints and consumables
Controls
You can use your mouse to play this game.