Play Now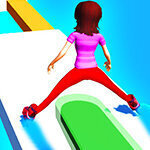 In Shift Run, put on your rollerblades, and get ready to face various obstacles as you try to prove your skills! For some, even a flat surface can pose a challenge when rollerblading. But you're different, and always looking to push the limits. Show what you're made of by completing many levels in this game!
Control your balance, and keep your eyes on the track. Your objective in this game is to complete each level by reaching the finish line in them without falling or crashing into obstacles. It requires lots of practice to improve your rollerblading skills in real life, but the simple controls of this game make it easy for everyone. To start the game, click and drag your cursor over the main menu. Your character moves on her own, but you should control her moves. Slide your cursor while pressing the lşeft mouse button to change the position of your character's legs, according to the obstacles. Hitting those will make her fall, and you'll have to start the level from the beginning. Move on the boosters to increase your speed, and watch out for holes. You can check your level progress from the top of the screen. Good luck!
Ditch the rollerblades and grab your skateboard in our other popular game, Skate Mania. Have fun!
Developer
Web Games developed Shift Run.
Release Date
December 5, 2019
Features
Colorful 3D graphics
Intuitive controls
Entertaining gameplay
Multiple challenging levels
Controls
You can use your mouse to play this game.