Play Now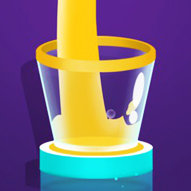 Water Flow is a strategical physics game! You have so many bottles to fill up with the correct colored waters! So, you need to move the correct pins to let colored water find the right way. It sounds easy, but as you proceed with the game, levels will be getting harder! If you are ready, start the game now!
Water Flow is a fun puzzle game with a very simple goal. You just need to move the correct pin to fill the correct bottle by letting the colored water flow. To mix the colors sounds funny, but it could be very dangerous in this lab! You should avoid different colored waters flow into the same bottle. You can pull, push, or adjust the pins for the colored waters run down the same colored bottles. As you pass the levels successfully, it will be getting harder. There will be more pins and some other challenges to solve. Also, as you proceed with the game, you can unlock the different colors and challenge yourself more. Don't worry when you failed the level because there is a restart button on the left side of the screen. You can click it when you failed. Good luck and have fun in this free puzzles game!
Do you trust your skills? If so, take the different challenges in our collection of free and online puzzles games. Enjoy!
Developer
BPTop developed Water Flow.
Release Date
August 17, 2020
Features
Colorful 2D graphics
Multiple levels to pass
Strategic puzzle game
Skills improving
Controls
You can play the game with your mouse or your fingertip.