Play Now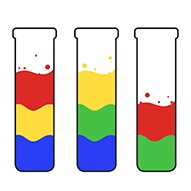 Water Sorting Puzzle welcomes you to the magically calming world of colored liquids. Yes, it is a puzzle, and yes, it is challenging, but with colors so cute and animations so satisfying, you will not be able to get annoyed at it. Just relax and get ready to be lost in this sweet experience.
There are four main difficulty options to choose from: easy, medium, hard, and extreme. As the difficulty rises with every level, it would be best to start with easy if you are playing this game for the first time. With more difficulty comes more bottles with more colors. The main goal is to fill every bottle with only one color. We have different liquids with different colors that do not blend. They are separated randomly and put in bottles so we have to put them back together in a certain order. Click on a bottle to choose, then click on another to transfer liquids from one to another. You can only merge the same colors, and if the top color of a bottle is not the same as you want to pour on it, you cannot do that. It is permitted to pour liquids with whatever color you want into empty bottles. You can always click on 'skip' to watch a short ad and skip the level if you ever get stuck.
If you enjoy this cute challenge with water, you can check out other puzzle games by clicking here.
Developer
OneTwoPlay BV developed Water Sorting Puzzle.
Release Date
January 17, 2022
Features
Cute drawings and theme
Relaxing animations
Improving logical skills
Easy controls
Available on mobile devices
Controls
You can use your mouse to play this game.