We're Impostors : Kill Together
Play Now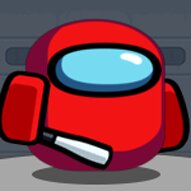 Call your best friend and team up because with We're Impostors: Kill Together, it is time for some mischief. Test your friendship and see how compatible you are, because, with characters with different skills and targets, it is all about completing each other. Red or blue; as long as you are working together, consider it done.
Your mission is to kill everything that moves. You can only kill people the same color as you, so plan carefully and move together. Kill the zombies and guardians on your way. Watch your enemies get frightened by your actions as reactions pop on their heads. Corner whoever tries to escape this deadly team. Protect each other by pushing buttons or crossing waters the other cannot. Use the team effectively on map control and finish levels as quickly as possible. Pick up the letters to complete words and earn new weapons. You can try two other in-game modes involving more zombies for a change. Unlock skins by watching short ads or collecting and spending coins you get by passing levels. Play the lottery to win power-ups. Try out lucy spin to win random rewards, specimen to choose a skin and unlock it. Also, you get rewards for signing in daily, so it is better to check in once a day.
If you enjoy this game, you can try other action games by clicking here.
Developer
Bin Studio developed We're Impostors: Kill Together.
Release Date
February 9, 2022
Features
Colorful 2D graphics
Can be played by 2 players
Many different skins to unlock
Improving gaming experience with every level
Available on mobile devices
Controls
Use arrow keys to move and use your mouse to click on the switch button to change teammates.