Play Now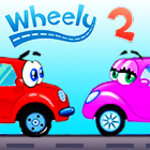 In Wheely 2, the adventures of the little red car continue to surprise! This time, our cute little friend falls in love with the most beautiful pink car that has just been taken out of the showroom and being transported to somewhere else. He must find her and show how he feels. Can you help him with his dangerous journey all the way to his one true love?
Who said love is only for humans? Our favorite car friend finally found the love of his life. But he needs to reach her before she is transported to very far away. In this fun cars game, your objective is to solve the puzzles by clicking on the objects in the correct order to pass the levels and unite these lovers. But it is going to be a very long journey in which you will pass through the wild jungles, jump down during flight, and many other more dangerous actions. To achieve your goal, you will need to think strategically. Press the buttons, pull the levers, and find your way through the most complicated paths. You need to use your time wisely, too! Some levels can be tricky, and your timing to activate the mechanisms can be vital! Maybe it is a long shot, but in the end, the love is worth everything. Isn't it?
If you wonder the next journey of this little red car, then you should be checking Wheely 3 by clicking here.
Developer
Agame developed this game.
Release Date
May 8, 2017
Features
2D colorful graphics
16 levels to pass
Love theme as the backstory
Entertaining and addictive gameplay
Controls
You can simply use your mouse to play this game.