Play Now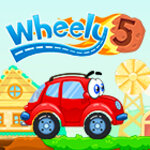 In Wheely 5 Armageddon, our car friend is stepping into a whole new journey again! The 5th adventure of this popular game series continues to entertain with challenging puzzles and a new creative backstory that will make you addicted to this game! This time, he starts an ordinary day by mowing the lawns and it somehow turns into the end of the world! Can you help him stop Armageddon from happening and save the world by solving the puzzles?
With bright red color and big wide-open eyes, isn't he the cutest car ever, or what? But saving the world is not a one-car job to handle. In this fun puzzle game, your objective is to follow the clues and click on the items in the correct order to guide Wheely in order to pass the levels. Even a tiny little mistake or disorder can cause you to fail, though. Click on the objects that you want to use and then click on the car to make him move. Before taking action, you should make a strategic plan to get through the obstacles. There are 2 hidden objects in each level, and you can check at the right top of the screen to see what is hidden. Collect the hidden objects, move quickly, and get all the stars!
Be sure to check our collection of free and online puzzle games to discover other adventures of this fun game series and even more!
Developer
Agame developed this game.
Release Date
September 12, 2017
Features
2D colorful graphics
Strategy involved puzzle adventure
13 levels to pass
Simple controls
Controls
You can use your mouse to play this game.