Play Now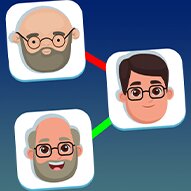 Get ready to be shocked, because with Who Was Who, you are about to see the unguessable childhood photos of world-famous celebrities. This gallery contains a wide range of famous people; from Taylor Swift to Michael Jackson, you will be asked to guess what these people looked like as children. You are going to love it, especially if you like "You will never guess their former jobs" or "Look how they have changed" kinds of articles.
You are given three different photos on both sides, children on right and adults on left. Click on one and drag it to the one you want to match it with. Every wrong guess costs you one energy. You can have 5 energies at most, and they can refill with time, coins, and by watching short ads. You can also gain coins or multiply them again with ads and use them for tips if things get too confusing. The game sometimes gives two images of different celebrities in similar poses to trick you, so you can never be too careful with your choices. If you have no idea who is who, you can always inspect facial structures like nose and chin shapes, jawlines, moles, and hairlines to take guesses.
If you like this game, you can play more puzzle games by clicking here.
Developer
OneTwoPlay BV developed Who Was Who.
Release Date
November 16, 2021
Features
Easy controls
Fun and addictive gameplay
Available on mobile devices
Controls
You can use your mouse to play this game.