Play Now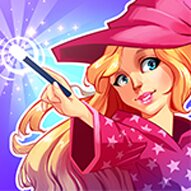 Make a magical entrance to the world of wizardry in Witch Magic Academy! As a regular girl going on her normal life, you are magically taken to a secret place one day. This day is a change point in your life. Now, can you transition into this world?
The first thing you will learn in the magic academy will be to brew potions. This will also be one of the most important powers in your hands. So, first, you should physically get ready to be a witch. Choose your wand, your witch hat, and your cloak in a way to express yourself. Later, you will be taken to the potion chamber. There, you will need to complete four segments to have a complete potion. These four segments introduce you to four mini-games. First is a hidden object game where you should find the listed objects among many others on a shelf. The second mini-game is a game where you grow plants and collect them. There, you should plant the correct plants that are shown to you once. In the third mini-game, you solve the puzzles to get one block free of the gridlock. The fourth mini-game is a classic memory game. When you complete all the mini-games, you will have your potion. Be careful to make the right moves, or you will get a very wrong potion!
If you enjoyed playing this mysterious game, you should check out the adventure in Idle Arks: Sail and Build.
Developer
TastyCherryGames developed Witch Magic Academy.
Release Date
October 26, 2021
Features
• 2D colorful graphics
• 4 mini-games
• Customizable characters
• The mysterious world of wizardry
• Intuitive controls
Controls
You can use your mouse to choose the options.