Play Now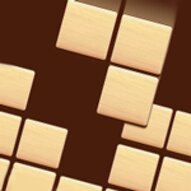 Use wooden blocks carved in random shapes with the right strategy to destroy them with Wood Block Puzzle! Place differently shaped blocks on cells, and don't leave any squares empty to earn a bonus! Make combos, destroy rows one after another, and break your record with the help of master-level planning skills!
Imagine a jigsaw puzzle without a picture; that is what you will be doing! Pieces that contain one to nine blocks will randomly generate below the game table. You have to use all three pieces to get new ones. The point is to save as much space as possible to keep the game going. Filling a horizontal or vertical row clears that whole line. The game ends when the space you have is not enough to place new pieces. This is when you make a crucial decision; will you use your coins to get a boost and keep playing, or is it time to give up and start anew? Each combo and score earn you some golds you can use to destroy a square, a piece you placed before, or a whole area. The last boost allows you to change the pieces you have. Can you keep up with the blocks without knowing what's next?
If you are into fun brain exercises, you can check out our Puzzle Games by clicking here!
Developer
SOFTGAMES – Mobile Entertainment Services GmbH released Wood Block Puzzle.
Release Date
April 4, 2022
Features
Relaxing wooden theme
Easy to play
Fun for all ages
Improving puzzle skills
Available on mobile devices
Controls
You can use your mouse to play this game.