Play Now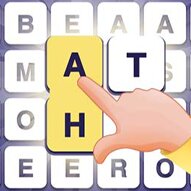 Get your spelling muscles working with Word Swipe! Connect letters to create words while fighting against gravity! Get faster and better with each level to fit more words into your limited time and see the hidden words in a sea of meaningless letter combinations! Flex your brain muscles to read in every possible direction and break new records!
Forget everything you know about word puzzles and reading rules! Here, you can create words from any letters standing near each other by creating ties between them! Just hold a letter and move your cursor to the next one without touching any other character. The word you create must have a meaning in the dictionary to be accepted and added to your score. Each level gives you a unique quest, like breaking a number of lines. Check the level quest before hitting the start button to save time. Keep an eye on the countdown to fit enough words in the level. Each chosen letter gets eliminated from the table, and the letters left move toward the center of the screen to make it possible to create new letters easily. Do not forget to watch a short ad to add bombs to the game and try your new explosive boosters! Good luck!
If you like this addictive game of words, you can check out our other Puzzle Games to find more games like this!
Developer
SOFTGAMES – Mobile Entertainment Services GmbH developed Word Swipe.
Release Date
June 27, 2022
Features
Fun brain gymnastics
Family-friendly
Increasing difficulty
New goals every level
Available on mobile devices
Controls
You can use your mouse to play this game.