Play Now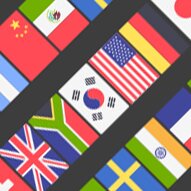 Travel the world without spending money and time with World Flags Quiz! Improve your trivia and memory skills by challenging yourself in two different game modes! Change the game to change the rules, learn new flags with each try, and test your knowledge! How many scores can you make without cheating?
Let's see how many flags you know! It is time to remember all the history and geography lessons from school because this game is all about testing them! It will take you to Africa, ship you to South America, and drag you all the way to eastern Asia! You can turn off the game music if you focus better without it or keep it on as you wish. Now, if the environment is ready, you can start the test! You can start with the challenge mode if you dare, but beginners would be better off starting with the normal mode. Both game modes give you a thirty-second time limit, but the normal mode also allows you five lives, while the challenge mode ends with your first mistake. Read the country's name at the top and click on its flag. Keeping your calm against the countdown would be the best tactic. Good luck!
If you like this memory test, you can check out our Puzzle Games to find more games like this. Enjoy!
Developer
Misc.261 Games developed World Flags Quiz.
Release Date
May 18, 2022
Features
Fun for all ages
Improving trivia and memory skills
Two game modes
Addictive tests
Available on mobile devices
Controls
You can use your mouse to play this game.